How the HSE succeeded during Covid using the VERTHOS Digital Workflow Platform
The Health Service Executive (HSE) provides all of Ireland's public health services in hospitals and communities across the country. When the Covid-19 pandemic arrived in early 2020, the HSE was the focal point of all associated healthcare issues which created many challenges.
When Covid-19 took hold many work activities could not be performed by existing HSE staff due to illness, risk of illness and redeployment to COVID activities such as testing.  Many of these non-clinical activities included activities on test sites. However many members of the community were cocooning and needed support around their health and wellbeing. Activities such as Meals-on-Wheels, delivery of prescription drugs, as well as many skilled labour activities. Early on the HSE CH07 region (Dublin, Kildare & West Wicklow) determined that immediate assistance was required and it engaged the Kildare GAA organisation to seek volunteers.
The Gaelic Athletic Association (GAA) is Ireland's largest sporting organisation and is celebrated as one of the great amateur sporting associations in the world. Kildare GAA, as part of this organisation, engaged each of its 45 clubs representing up to 40,000 members, to identify volunteers to support the HSE CH07 activities.
Initially Excel was the tool of choice, where each member of each club received a formatted spreadsheet to capture their information including specific skills, availability times, etc. Coordinating thousands of spreadsheets, with personal data from GAA Volunteers, shared with many and distributed through public email was a GDPR nightmare and a management headache.
Checksolo became aware of these spreadsheets and volunteered its VERTHOS platform as a solution to securely capture all volunteer information online.
RAPID DEPLOYMENT OF VOLUNTEER RECRUITMENT, PROCESSING, DEPLOYMENT AND COMMUNICATION SOLUTION DURING COVID
The VERTHOS cloud based platform is ideally suited to capture information and centralise it from disparate groups. Over one weekend VERTHOS configured a solution to capture the specific volunteer information. This information, self-registered by the volunteers, was accessible to the HSE for analysis so that volunteers with specific skills in a require location could be easily identified.
Following the capture of the volunteer information, the HSE required these volunteers to be Garda Vetted, and also complete the HSE specific e-learning courses such as Infection Prevention and Control and Safeguarding induction training to allow volunteers to work in specific areas of care such as nursing homes. VERTHOS was subsequently further enhanced to support these HSE requirements and VERTHOS communicated directly with the volunteers to complete all activities.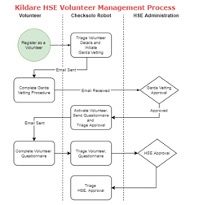 "VERTHOS orchestrated the end-to-end process of our Covid-19 volunteers, including Garda Vetting and HSE specific e-learning courses, at a time when we most needed it. It communicated directly with the volunteers reducing the administration needs of the HSE to a part-time resource. VERTHOS provided the HSE with a database of skilled, vetted and trained volunteers that could be searched using specific criteria. VERTHOS saved us time and eliminated all the paperwork and provided a record of volunteers that were selected creating an audit trail for compliance purposes. Automatic reports and customizable dashboards let us see everything at a glance. VERTHOS offered a very flexible and functional solution that was quickly deployed."
Sarah Walshe – Health Service Executive.
The Health Service Executive (HSE) provides all of Ireland's public health services in hospitals and communities across the country. The HSE has established nine Community Healthcare Organisations (CHOs) across the country as a means of delivering health services. CHOs are community healthcare services outside of acute hospitals, such as primary care, social care, mental health, and other health and well-being services.
Checksolo DAC develops and supplies the VERTHOS Digital Workflow Platform (DWP) – an enterprise level 'no-code' configurable system. VERTHOS DWP is deployed across a range of industries including Healthcare, Medical, Facilities Management and Agri Foods. Checksolo provide VERTHOS on a SaaS basis with no IT infrastructure requirements and same or next day deployments.
For further details, please contact
Gus Collins
Chief Operating Officer
Checksolo DAC
8 Broadford Avenue
Ballinteer
Dublin 16
Ireland            
T: +353 86 8140779